Custodiol ® HTK Solution is intended for perfusion and flushing of heart (and donor liver, kidney, pancreas) prior to removal from the donor for preserving these organs during hypothermic storage and transport to the recipient. It is based on the principal of inactivating organ function by withdrawal of extracellular sodium and calcium, together with intense buffering of the extracellular space by means of histidine/histidine HCI, so as to prolong the period for which the organs will tolerate interruption of blood and oxygen.
Single Dose of Bretschneider's HTK solution could effectively reduce pumping time and afford similar myocardial protection compared with repeated doses of CBC in the preservation of donated hearts (1)
Contains lower concentrations of sodium and calcium and induces cardiac arrest by deprivation of extra-cellular sodium for action potential (1)
Ketogluterate provides high energy production via adenosine triphosphate during reperfusion and tryptophan stabilizes cell membranes
Manitol acts in osmotic regulation of the cell membrane
The major advantages of HTK solution are derived from histidine, which acts as a buffer, enhancing the efficiency of anaerobic glycolysis. Kresh et al. found that a histidine protein-type buffer solution was superior to bicarbonate-based and tromethaminebased hyperkalmic crystalloid cardioplegic solutions for stabilizing intracellular pH and postoperative biochemical and mechanical data (2)
A COMPARISON IN DONOR HEART PRESERVATION: A COMPARISON BETWEEN BRETSCHNEIDER'S HISTIDINE-TRYPTOPHANEKETOGLUTERATE SOLUTION AND COLD BLOOD CARDIOPLEGIA
This study aimed to compare the efficacy of myocardial protection using single dose of Bretschneider's histidine-tryptophan-ketogluterate (HTK) solution and repeated doses of cold blood cardioplegia (CBC) in donor heart preservation for heart transplant.(1)
The authors concluded that a single dose of HTK solution or repeated doses of CBC solution afford similar myocardial protection in the preservation of donated hearts.(1)
Multivariate analysis show the significant reduced pumping time in HTK group (P = .002)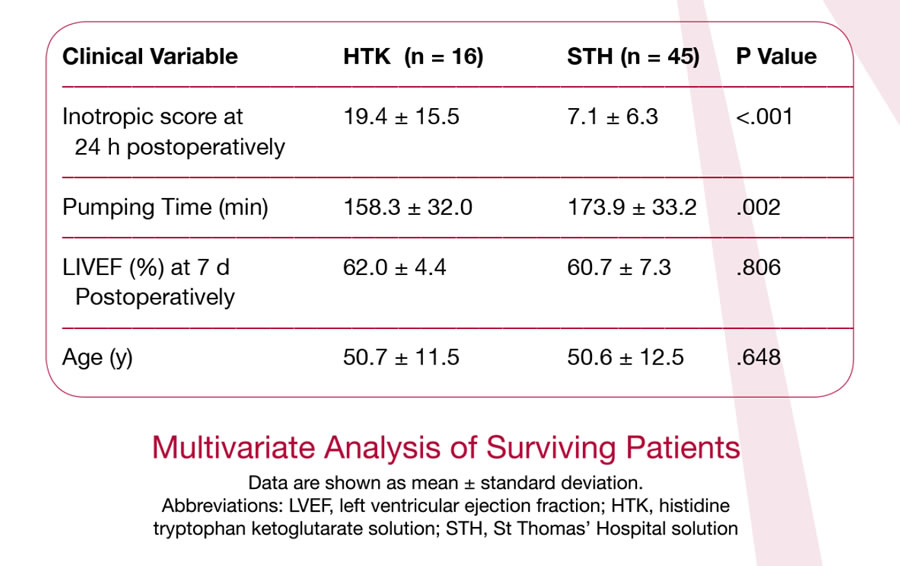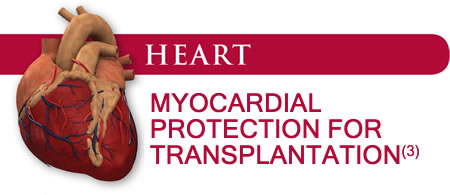 The present study is a randomized clinical trial assessing preservation of the donor heart using three common Cardioplegic solutions.
(Table 1 )(3)
Based on collected results it seems obvious that all three solutions are in the same range of effectiveness in regard to myocardial protection.(3)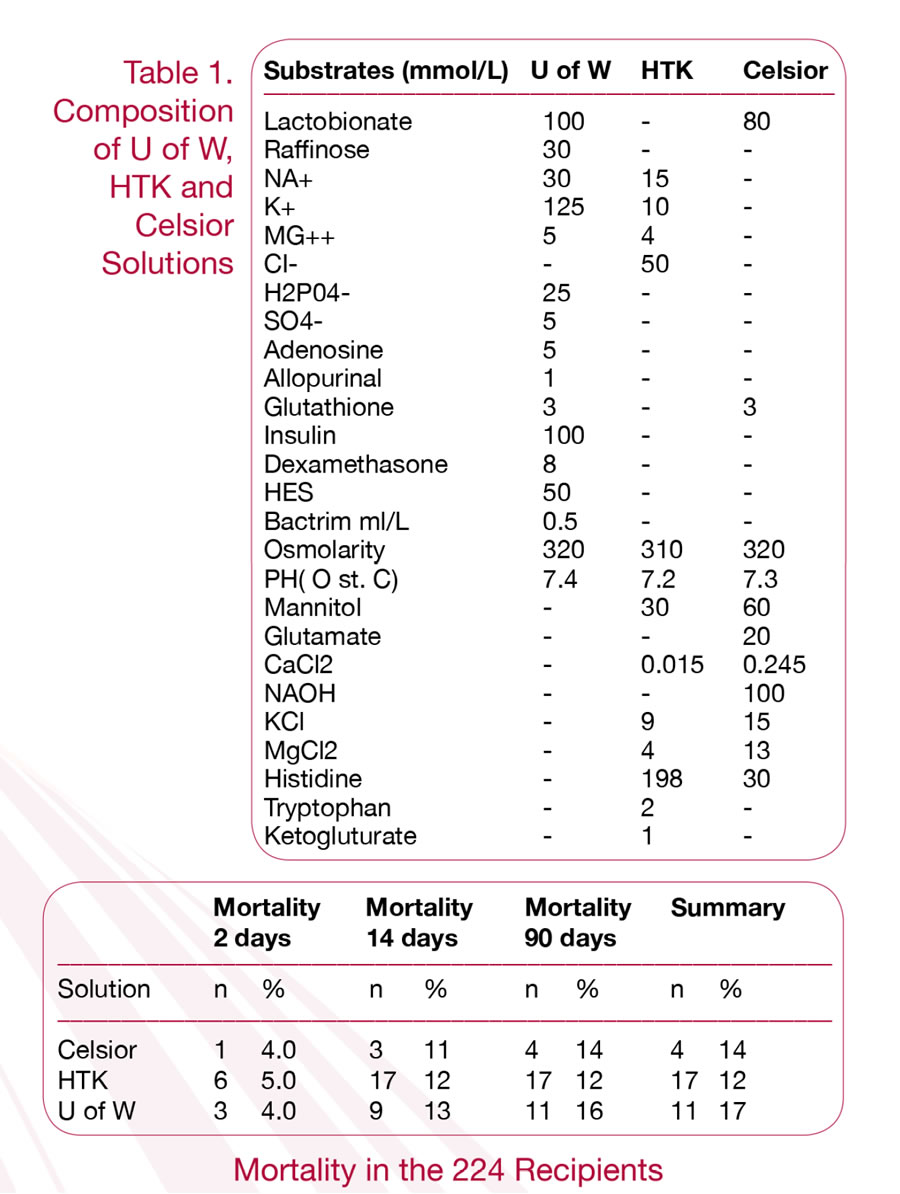 In our study, histologic changes in the zero biopsies analysis of donor data, total ischemic time, reperfusion time, mortality rate, and hemodynamic parameters indicated that HTK cardioplegia is more optimal in our conditions.(3)
HTK SOLUTION COMPARED TO UOFW FOR CARDIAC TRANSPLANTATION(4)
The purpose of this study was to access the efficacy of HTK solution as compared with UofW solution in experimental heart preservation.(4)
This table shows the recovery of hemodynamic data on the heart for 8 and 12 hours of preservation. Following 8 hours of preservation the recovery of AF, CF,CO, SP and RPP in HTK group (2) was significantly increased compared with that in group 1 (P<.05).(4)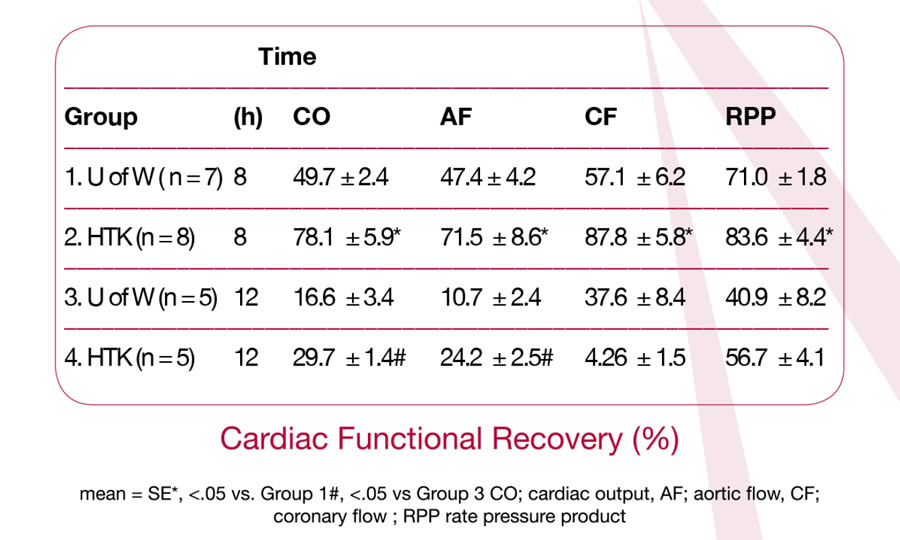 We found a better recovery of cardiac function and lower leakage of CPK in the hearts stored in HTK solution compared with those in U of W solution following 8 hours of storaqe.(4)
The efficacy of HTK Solution is attributed to the high buffering capacity provided by the histidine, which suppresses ischemia-induced acidosis and sustains a cytosolic ATO level.
In conclusion, HTK solution is much more effective than U of W solution for heart preservation. HTK may lead to better techniques of heart preservation for transplantatlon.(4)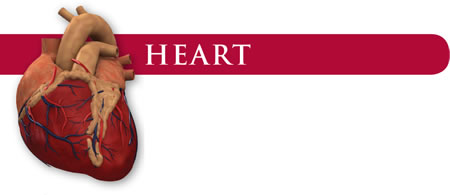 This study compared the protective effects of two widely used preservation solutions, histidine-tryptophanketogluterate (HTK) and Celsior (GEL) for ischemia-reperfusion injury using a rat heterotopic heart transplantation model with older donors.(5)
The authors concluded that HTK exhibits superior protections during cold storage in a syngenic rat heart transplantation model compared with CEL.(5)
TABLE 1. MYOCARDIAL DAMAGE AND LIPID PEROXIDATION
GEL= Gelsior; GPK = creatine phosphokinase; HMGB1 = high-mobility group box 1; HTK = histidine-tryptophan-ketoglutarate; MDA = malondialdehyde.
aValues are means ± SD; p values vs GEL are shown.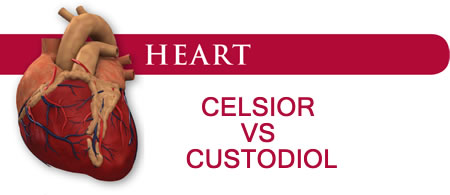 The aim of this experimental study was to compare the protective efficacy of the cardioplegic solutions Celsior and Custodiol. Canine hearts were examined with regard to energy metabolism and early post-ischemic recovery after 8 or 12 hours of ischemia at 5°C.(5)
The authors concluded that, in the canine heart, Celsior showed no advantage over Cardioplegia with Custodiol. Differences were observed however, which may be clinically important especially in the case of long storage times.
TABLE 2. MYOCARDIAL ENERGY METABOLISM DURING ISCHEMIA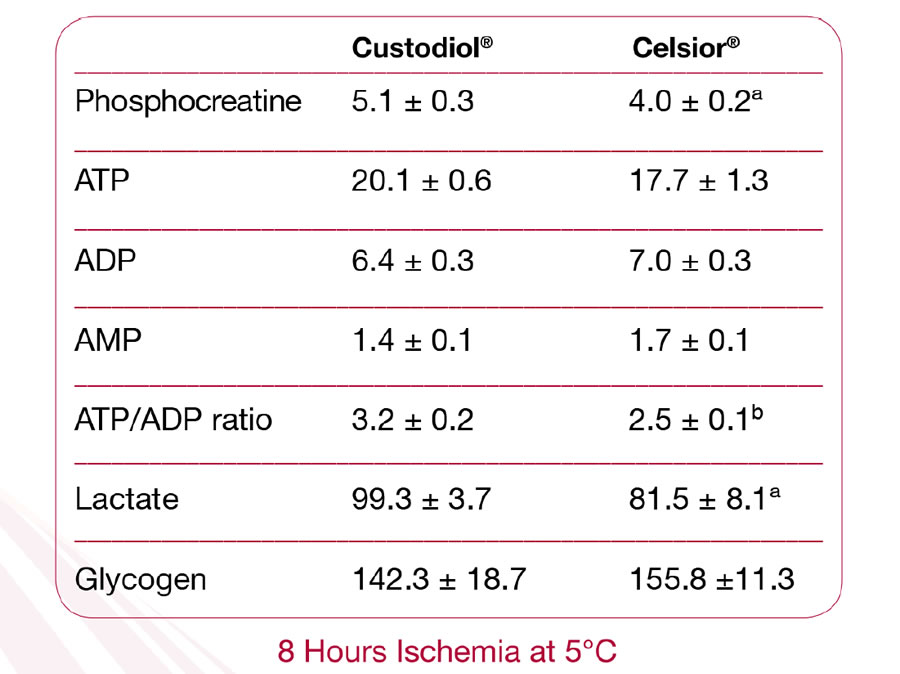 There was no significant difference in myocardial ATP content between preservation solutions after 8 hours. After 12 hours, hearts of the Custodiol group contained significantly more ATP compared with Celsior-treated hearts (p < 0.05). The ATP/ADP ratio was significantly higher in Custodiol-treated hearts after both ischemic times. (p < 0.01, 12 hoursp < 0.05) (6)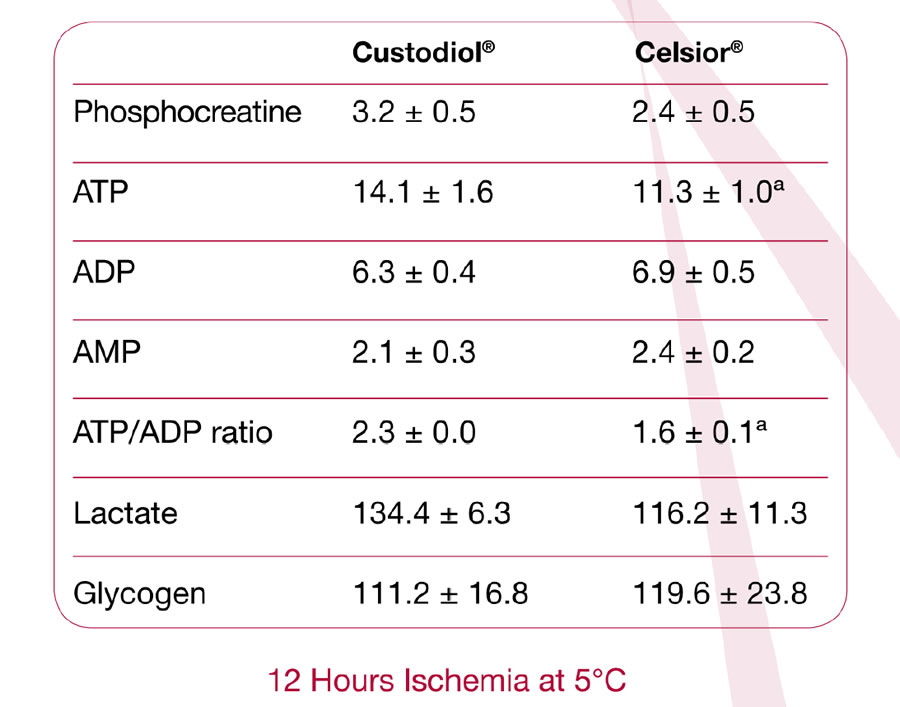 Hearts were perfused with Custodiol or Celsior and stored at 5°C for 8 or 12 hours. Values are means SEM of five experiments (given as µmol/g dry weight).' Significantly different from corresponding ischemic time of the Custodiol group; p < 0.05. b Significantly different from corresponding ischemic time of the Custodiol group; p < 0.01.ADP = adenosine diphosphate; AMP= adenosine monophosphate; ATP= adenosine triphosphate.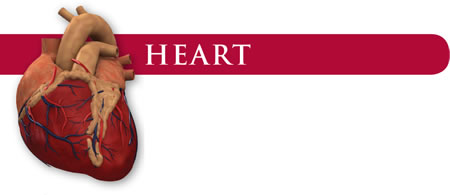 Comparing the incidence of arrhythmias during the first 20 minutes of reperfusion, Celsior-treated hearts showed a higher rate – arrhythmic beats than Custodiol-treated hearts after 8 hours as well as after 12 hours of ischemia. The difference was significant after 8 hours (ANOVA, p < 0.01) but not after 12 hours of ischernla.(6)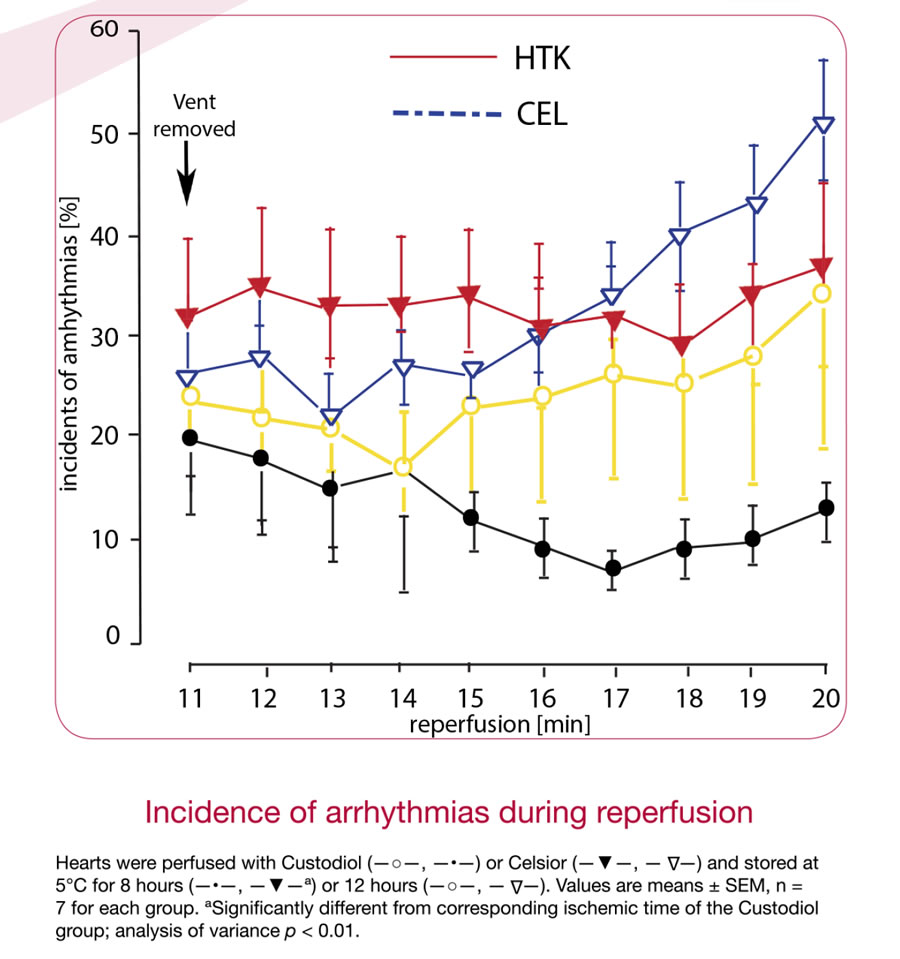 REFERENCES
1) S.-Y. Sung, C.-Y Lin, J.-Y. Song et al., Myocardial protection in donor heart preservation: A comparison between Bretschneider's histidine-trytophan-ketogluterate solution and cold blood Cardioplegia. Transplant Proceedings, 2014 46, 1077-1081
2) Kresh JY, et al. The relative buffering power of Cardioplegia solutions. The Journal of Thoracic and Cardiovascular Surgery 1987 Feb. 43 (2) 309-11
3) M. Garlicki, J. Kolcz, et al., Myocardial Protection for Transplantation. Transplantation Proceedings 1999, 31, 2079- 2083
4) K. GU, S. Kin et al., HTK Solution is more effective than U of W solution for cardiac preservation. Transplantation Proceedings, 1996 Vol 281906-1907
5) S. Lee, C-S Huang, et al., Histidine-tryptophan-ketogluterate or Celsior: Which is more suitable for cold preservation for cardiac grafts from older donors? Ann Thorac Surg 2011; 91: 755-63
6) J. Ackemann, W. Gross, et al., Celsior vs Custodiol: early postischemic recovery after Cardioplegia and ischemia at 5°C. Ann Thorac Surg 2002; 7 4:522-9